"Hiking?!? Don't call it that!"
That is what one of my friends said when I mentioned I wanted to start "hiking." A little confused, and with my mouth open, I paused with a blank stare. Then he responded with, "It is a time of Zen, a release." I don't think I really understood what he meant until I hit the midpoint of the Cowels trail. I had hit the front trail many times before, but never in place of challenging my body and mind. I have written about the effects of stress and living in this fast paced city before and, with this quest, I continue to find healthy ways to manage and cope said stress. This was just another way to explore the beauty of San Diego and to get in touch with my Zen. I do have to admit that it was also a way to refill the adrenaline tank and get a killer workout. What a great way to do all of those things all in just a few hours on a Sunday!!
Now, the way I do it and the way you do it may be different. I move as fast as possible on the way up by jogging then speed walking, interval style, then running the entire way down. This can be slightly dangerous, but can also be quite fun. Others may take their time on the way up and down, which is pretty sweet also and will probably yield more Zen.
Some of the trails were better than others, but overall, I had a great time on all of them.I didn't get a chance to get to all of them in the area but I have some lined up for the next few weekends. However, I wanted to make this an interactive article by inviting you to chime in. So, I encourage all of you to please comment with some more trails and your critique of them, or even build off the critiques you see here. Lets make this the ultimate San Diego hiking guide!! 🙂
Devil's Punch Bowl (Cedar Creek Falls)
Easy-Medium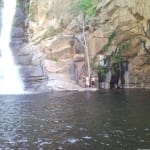 The way to the water fall is all decline, you know what that means! Yup, the way back to the car is the real hike. Once you trek your three miles down hill you will hear the water, then around the corner you will take a look at a beautiful waterfall and reservoir nestled in the middle of solid rock walls. It was truly breathtaking. People do jump into the "punch bowl" but, I wouldn't recommend it. If caught out there without a permit it is a $75 fine. The signed permit is saying you will not drink alcohol or jump into the water from the cliff. People still do it though, and that is why there are still helicopter evacuations every year. Don't do it. The view and peacefulness is enough of a thrill and did I mention the way back? That will get your endorphins going way more than jumping. Speaking of, I challenge you to run (well, jog) the entire way back. I had to stop more than once and felt like my lungs were going to fall out and die. This one is at the top of my list, not only for the hike and waterfall, but during the 70 minute drive I saw wild turkeys and a herd of camels. You read that right, camels. Lastly, the ride back provides a wonderful excuse to get some homemade pie.
Iron Mountain
Medium-Difficult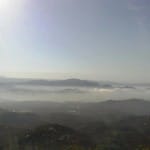 You will want to get up there early, probably around 7am if you can, because it is one of the most popular trails in San Diego. When I got to the top I understood why! As you can see from the photo, the view is fantastic! It is a steady climb for about 2.7 miles and if you keep a speedy pace it will flip that beast mode switch to "ON!" The trail is very well maintained and the people are friendly. Dogs are allowed on the trail which can be a plus or minus depending on your position. The way down was one of the most difficult to run, but again, made for a great workout. With such a close trail available, I will be going again for sure!
Three Sisters Waterfall Trail
SUPER Difficult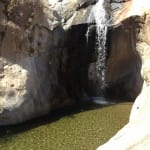 Hold on to your hiking shorts and Cliff bars, kids, this one is a killer. I am not exaggerating when I say this is the most difficult hike EVER. Well, yeah I am exaggerating a little. It isn't the most difficult in all the land but it sure gave me a run for my money. Be prepared for a 60-90 minute drive depending on where you are located. I would make sure and hydrate the entire drive and to get out there by 8:30 am at the latest. It gets extremely hot and, because of the trails difficulty, you can cramp up easily. So, the trail begins flat and mostly down hill which is a little deceiving. There are some confusing signs in the beginning with arrows pointing the wrong way, so make sure to trust your instinct on that one. Back to the trail, the first challenge is loose dirt down a very steep decline. I tried to step sideways and ended up just sliding down in a crouched position. More steep decline and rocks, then a straight down rock face with some rope. I used the rope, my partner didn't…show off!
Anyway my tip du jour here is to just follow the river once you get to it. There is no set trail, so don't even try and find it. We wasted a lot of time trying to find it. But then realized you just need to get up there some how and that is half the fun. So climbing over boulders, jumping over logs, literally rock climbing in some spots – we finally made it. The three waterfalls were nested in more slippery and steep rock. I am assuming, in the spring, the pools have a bit more water in them and are good for swimming. But we did some more dangerous traversing up to the top waterfall, which is the best, took some pictures and headed down (um, I mean up). This is where you will strengthen that cardiovascular cavity. Oh man, it doesn't matter how good of shape I thought I was in, that steep hill back had me wheezing. Lets not forget having to, once again, climb over under and through the woods.
If you want something different, this is it folks. This hike was definitely the most memorable so far but I am not going to go back for a while. If you have done this one, let me know what you think. Oh and if you haven't yet gone, here is something I have to say: PLEASE DO NOT bring your dog or your kids!!! Bring TONS of water and wear sunscreen!
Mount Woodson
Medium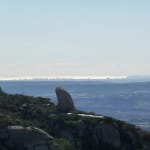 This was great workout because we had a good pace the entire way up (no breaks), then ran as fast as possible down the mountain. The view was ok, nothing to write home about, we actually had to walk through antennas and fences, up asphalt, and finally make a dangerous climb up a non-potato chip rock to get a good view. The trail gets pretty crowded and you have to stand in line to take a picture on the potato chip rock, so I definitely recommend going early. The park opens at 8am and the parking costs $8. Tips: Bring a small bottle of water to carry but thats it. Do not pack a bag or dress in heavy layers, wear hats etc. This will allow you to move quickly and, if you plan on taking it slow, it will be less of a pain. DO NOT RUN DOWN if you have never done this type of thing before. It can be dangerous. But, if you have done this type of thing before…I don't even have to explain what I mean. Still, be careful 😉
Backside of Cowels
Medium-Difficult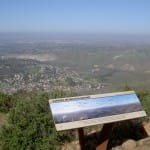 The front-side trail was closed due to the rain washing out the trail, but the back side (entrance in Santee) is still open and poppin'! This one is wonderful for a trail run and workout, but not one of my favorites. The good things are that the view is great and the trail isn't as crowded as the front side was. Also, you don't have to pay for parking. There are some really steep areas and jogging as much as possible is recommended but you can go at a slower pace and still get a great workout. Enjoy!
Stonewall
Easy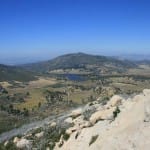 This one was very short, probably about a mile and a half. It was a bit of a drive but the view was incredible! If you are looking for a little variety, give it a try for sure. The parking is $8, which was a bit of a downside, but it is worth it if you want a new experience. Oh, and try running the whole way up for a challenge 🙂 Tips: Bring a camera, run up and down twice to get the most bang for your buck, stop at the local fruit and veggie stands.