Dinner Lab is back to San Diego!
As a foodie, I couldn't be more excited.
Upcoming Dinner: Mark your calendars for Sunday, September 13 as Guest Chef David Bowles from Los Angeles joins Dinner Lab, San Diego presenting his new menu, Modern Publican: Rise of the Contemporary Gastrolounge. The menu celebrates the new guard of beer-centric cuisine and will feature craft beer pairings from the hottest new brewery on the market: Duck Foot Brewing Co.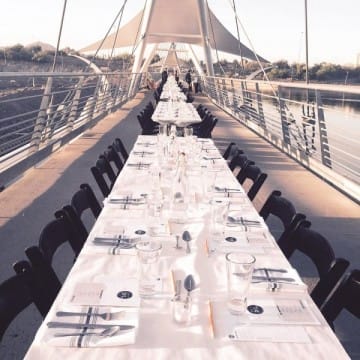 Active in 33 cities across the nation (including New York, New Orleans, San Francisco, Miami, Chicago, Boston, Austin and many more), Dinner Lab is a membership-based social dining experiment that unites undiscovered chefs with adventurous diners looking for something different than a traditional restaurant experience.
So, what does that mean exactly?
Guests come to explore new cuisines and community in a space that only exists for 24 hours. Local chefs are given a creative platform, a culinary theatrical stage of sorts, to prototype new dishes and ideas. Each chefs' menu tells a compelling story, and guests are encouraged to use this platform to provide honest and truthful feedback to the spotlighted chefs.
Come eat with us! If you haven't attended a Dinner Lab event to date, here's what to expect:
All dinners start with a cocktail hour at 7pm; The venue could be anything and everything – an empty warehouse, atop a parking structure, inside a church, around a museum, or other – the location is truly unpredictable – and that's part of the fun!
Expect lots of booze – cocktail/wine/beer pairings are always involved. Dinner starts around 7:45pm and includes 5-7 courses of delicious and unique dishes. The chef mixes and mingles with guests, who ask colorful questions about the inspiration of each dish.
Seating is unassigned, and guests are encouraged to make friends with others at their table – a big part of the fun as well!
Typically you have to be a Dinner Lab member to attend these events, but those that want to join in the fun can use my special VIP link for access to the Sept 13th event without having to be a member!
WIN A DINNER LAB MEMBERSHIP FOR THE YEAR!
We're raffling off  a few 1 Year Dinner Lab memberships ($175 value) to my peeps this week, enter using Rafflecopter below! As a member, you get special dining perks and first access to the calendar of Dinner Lab events in cities across the nation!