San Diego is a city full of hidden treasures. One in particular is the day spa located within the walls of the modern and luxurious Kimpton Hotel Palomar in the heart of the Gaslamp Quarter. The Nature's Spa by Jurlique is a tranquil escape in your own backyard. Whether you are a local needing to relax from your busy lifestyle or visiting on business or pleasure, this is the place to be for a little pampering! The Nature's Spa offers a wide variety of services from skin care such as facials and waxings, massages including 30, 60, or 90 minute and couples massages, nail care and manicures, and full body therapies such as whole-body exfoliations and wraps. For a full list of their services, be sure to check out their website here.
DowntownRob arranged for Barbara Beran and myself to visit the spa and enjoy their services in exchange for an article reviewing the experience. As we arrived, we were lead into separate rooms to put down our personal belongings and change into plush, luxurious robes and slippers. We were shown the lounge area where they had refreshments such as cucumber and lemon water along with tea for us to hydrate and relax before each of our masseuses came to greet us.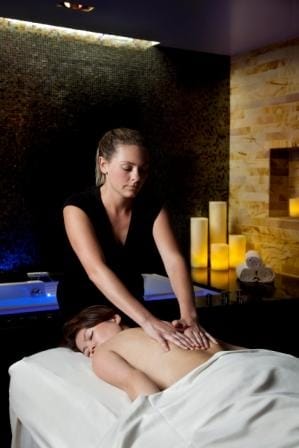 We were shown into our rooms where we each got pampered with the service of our choosing. Barbara received the Jurlique Citrus Body Exfoliation and I received the Full Body Swedish Massage. After each service, you are guided into a rainfall steam shower for ten minutes to open the pores and senses, to relax the body and mind, before leaving.
While wrapping up, we both learned about The Privilege Card. The card is intended for locals only and provides discounts throughout the property. Locals can receive 15% off at the Salt + Cleaver restaurant inside the hotel and the rooftop pool lounge, and 30% off at Nature's Spa by Jurlique. For all you locals, be sure to visit and sign up for your very own.
A special thank you to the spa for this wonderful experience. It was the best spa experience to this day!
By Ashley Graham and Barbara Beran
Nature's Spa by Jurlique inside Hotel Palomar, Downtown
1047 5th Avenue, San Diego, CA 92101
Website: http://www.hotelpalomar-sandiego.com/san-diego-hotel-spa-services/