We all love a good brunch, and this event from my friends at San Diego Magazine have brunch specialties from ALL our favorite restaurants. Not to mention, lots of beers, cocktails, and it takes place at the superb Estancia Hotel and Spa in La Jolla. Get your tickets if not already sold out and join the San Diego Magazine Brunch Bash! Be sure to check out the Best of North County Party as well – it's always a sell out. Buy your early bird tickets now.
Cure the hangover, blow off the day, and break your plans!
Splurge on unlimited eats, bottomless beers, brunch cocktails, piping-hot coffee and the Bloody Mary battle. For all of our brunch-lovers out there, this is a can't miss event of the highest caliber.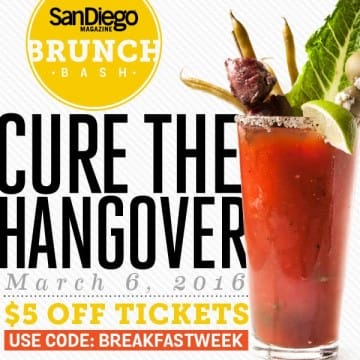 Featuring the brunch specialties from…
There is literally something for everyone on this epic day. Brunch lasts from 11 a.m. until 2 p.m. on March 6th. Tickets are available via San Diego Magazine, and they are going fast! Tickets cost $40. For $50, you also get a year subscription to San Diego Magazine. Both are incredibly good prices that will guarantee you a myriad of delicious brunch options and creative cocktail. Of course, since this is a boozey affair, this event is for those 21 and over.
The Brunch Bash will be held at the Estancia La Jolla Hotel and Spa (9700 N Torrey Pines Road, La Jolla, CA 92037).
Tweet using the #sdmbrunchbash hashtag and share your love for all things San Diego brunch!