Maggie confession: I'm a coffee snob. American coffee is too bitter for me. I've been known to go to Mexico just to buy coffee. I heard Sapori in Coronado served Illy coffee. If you haven't had it, ooooh, you're missing out. Smooth. Bold. Not bitter at all.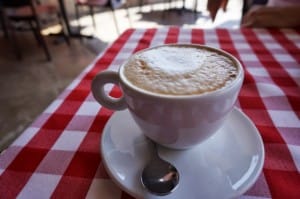 When I found this out, I had to check out what other secret goodies this little Italian bistro had. They do raise-your-pinky High Tea, cooking classes, wine events. You can also have your own event there. It's family owned and operated. The Italian husband is absolutely wonderful. His wife is an English pastry chef who makes some amazing desserts and is instrumental in the restaurant's operation.
Desserts. There are several gluten-free desserts. Just check out these desserts! Don't worry. If you drool on your keyboard, no one will know.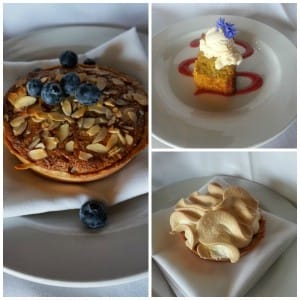 (Left: Blueberries and almond frangipane Top right: Gluten-free Orange and almond cake Bottom right: Lemon meringue pie)
Lentil soup. This is a staple dish on their menu. It reminded me of my mother's lentil soup. Comfort food just doesn't come any better than this. Even in the summer, this would make a good lunch meal. It's not too heavy and very filling. Served with crusty bread for dipping. Needless to say, I finished the entire thing.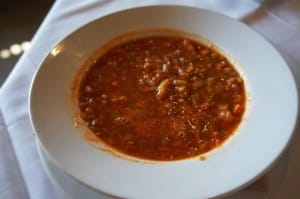 Fried zucchini squash blossoms filled with ricotta. Served with arugula and a light pesto. I like arugula for its sharp, peppery taste. It marries wonderfully with the light ricotta and ties in well with the pesto, bringing a fresh quality.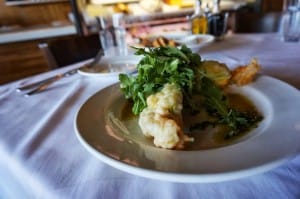 Burrata. This is one of those dishes that will blow your mind. It's a buffalo cheese- almost like a mozzarella but creamier. When paired with tomatoes, basil, balsamic vinegar, and olive oil, the combination is superb. I always feel like caprese salad needs more basil. Here, a little basil goes a long way. Your palate is too busy enjoying the texture sensation of the creamy cheese.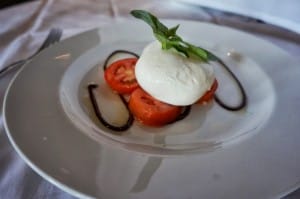 Lasagna. I probably would not have ordered this had it not been suggested to me. The meat sauce is exceptional. You can tell that it was simmered in wine and tomatoes and other deliciousness to create it's richness and depth. I particularly enjoyed the bechamel sauce and not ricotta… or cottage cheese. BLASPHEMY!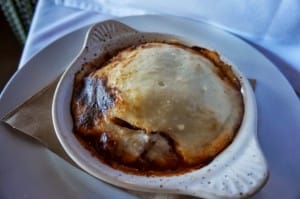 Sapori is located just across the street from the Ferry Landing, almost at the corner of 1st and Orange Avenue. If you have seen that million dollar view of downtown San Diego, it was probably taken from there. It's a big hit with tourists. During the summer, Coronado is invaded by tourists. We, Coronadians, get asked the same questions over and over again.
Innocent tourist: "Where's the Coronado Hotel?"
Frustrated Maggie: "You mean, the Del."
Innocent Tourist: "Where's the beach?"
Maggie rolls her eyes and responds: "Walk in any direction."
Innocent Tourist: "Can you take my picture?"
Maggie grunts out: "Yo no hablo ingles."
Innocent Tourist: "What restaurant do you recommend?"
Maggie, the foodie, says: "You might like Sapori."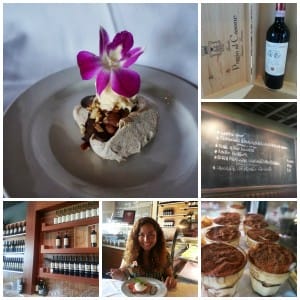 To check out Sapori's website for their lunch and dinner menus and upcoming events: CLICK HERE
What is your favorite Italian dessert?