Ladies, could you use a night out? SD Mom's Night Out is hosting our first event of 2013. On Thursday, February 28 over 100 moms will gather at Humphreys Restaurant for the Music & Food for Your Mood Event. Sometimes all moms need is a night away from home, surrounded by friends, music, savory food and delicious wine to make sure we truly appreciate the family we have. We invite you to take a break, to come out and enjoy the night out you deserve with the three F's in mind! Food, fun and friends!
Food.
What better way to reinvigorate than by enjoying a night out at one of San Diego's finest family-owned restaurants and entertainment venues, Humphreys Restaurant. This venue has spectacular views fit for a night out on the town, a romantic evening or even a family brunch. More importantly, they offer a delicious menu thanks to their executive chef to the stars, Paul Murphy (also a proud father of two beautiful girls). Chef Paul  is committed to exploring the flavors associated with modern global cuisine, and is very dedicated using local meats, poultry and produce when cooking.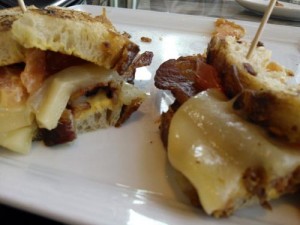 At the event, Chef Paul will serve a tasty menu including Cilantro Marinated Grilled Shrimp over papaya salad, Mary's Organic Chicken Roulade and Mom's Bacon Onion Grilled Cheese! And for dessert, Humphreys famous Cashew Brittle and Tco San Francisco Chocolate Truffles! Finally, it's not a night out without wine. Flight Winery will be covering you for the evening so hold on to your glass!
Fun.
Moms you are destined to have fun at this event. Not only with the food be delicious, but it is also part of the evenings entertainment. Chef Paul will provide an exciting cooking demo so you can cook up some of the goodness served in your own kitchen. If you love the '80s you're in luck. San Diego Moms will have access to Humphreys Backstage Live where you can dance the night away to the sounds of '80s cover band, Poprx . And if a cocktail is more your style, enjoy a special discount drinks.
Friends.
Every mom needs a friend! At the Music & Food for Your Mood event, you'll meet 100 of them. They all have families like you and they all are excited to just be out for a few hours! You'll all be excited to win prizes from our sponsors, perhaps a (2) night stay at Humphrey's Half Moon Inn, plus breakfast at Humphreys Restaurant, or a $100 gift card from Uber San Diego to help get you home. Plus, 50 of you will go home with a swag bag filled with more goodies from our amazing sponsors. Invite your friends, mom or not, because it's the perfect night for moms to hang out with your girls.
We hope you'll join us for this exciting event. For all the tweeters out there, make sure you use hashtag #SDMNOHumphreys to connect with us live during the event, thanks to Minglestream.
Tickets are $30 presale or $35 at the door. Get your tickets at  www.sdmomsnightout.com. Use promo code DTR to save $5!
A portion of the proceeds go to Olivewood Gardens and Learning Center, a historic 6.85-acre property dedicated to connecting and motivating students and families from diverse backgrounds through organic gardening, environmental stewardship, and nutrition education, empowering them to be healthy and active citizens.
Event Details
When: Thursday, February 28
Where: Humphreys Restaurant  2241 Shelter Island Drive, San Diego, CA 92106
Parking: Complimentary, say your with SD Mom's Night out
Cost: $30 presale, $35 at the door
Ticket includes:

Entrance to an exclusive evening for San Diego moms at Humphreys Restaurant
Complimentary wine provided throughout the evening provided by Flight Winery
Delicious comfort food provided throughout the evening.
Delectable chocolate truffles and Humphreys Restaurant's signature brittle, created by Helen Coyne, also a mother!
Entertaining cooking demo from locally-renowned chef to the stars, Paul Murphy
Access to discounted drinks and dancing in the Humphreys Backstage Live Lounge featuring popular '80s cover band, the PopRx.
Special discounted food and beverage menu for moms who want to stay after
First 50 moms will receive a swag bag
Opportunity to win superb prizes
A night to relax, mix and mingle with San Diego moms
A fabulous night out focused on food, friends and fun!