I recently visited the Se Spa at Hotel Palomar (loved it!), and wanted to share my 10 reasons why you'll love it too.
1. In the middle of our bustling and tourist packed city streets, it is a hidden gem that will leave you feeling like you just came back from a week on the beach in Bora Bora(well, almost).
2. The staff is ridiculously friendly and they will teach you more about your skin than you could ever imagine.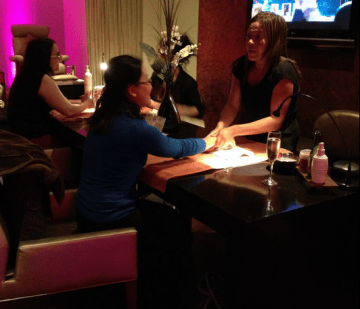 3. Did someone say Mojito Mint Body Scrub?!?
4. It is a great spot to throw a bachelorette party or bridal shower. There is a cabana-esque room for you and your girlfriends to use as your hub to meet up in between treatments… and of course sip on some bubbly. For all you love birds out there, you can spend the day with your significant other in the couples room, complete with a shower, tub & massage tables – cue the Marvin Gaye.
5. The restaurant Saltbox is downstairs and is the perfect place to grab lunch or dinner after your spa day. A little insider tip, try the flatbread.
6. Ever heard of vjazzling? Maybe don't google that one on your work computer.
7. They use Jurlique Skincare & Jane Iredale makeup products. Organic + No Animal Testing = Bonus Points
8. Every Wednesday the crew from VitaMazing comes to the spa, and offers B12 Shots & Botox injections. The benefits of B12 shots are pretty insane and include increased energy, mental alertness, lower stress levels, a better night's sleep, and many more.
9. Feel free to valet park when you visit the spa, it's free for all spa-goers!
10. Last but not least, if you give a spa treatment as a gift to a friend or loved one,  you will immediately become their favorite person.
p.s. Have you ever heard of Spa Week? You are welcome.
What's your favorite spa?