Social Fresh Conference wouldn't be Social Fresh unless it touted impeccable speakers, brand representatives and case studies; one large open conference room opposed to separate tracks, and of course, networking, teams, boxed lunches and incredible cocktail parties. This year was no different. The team at Social Fresh paired up with Omni San Diego to host two fun-filled days of learning, networking, and challenging/encouraging one another to go against the social media status quo to shake up our social strategies.
The conference ran from Tuesday night, October 28th through Thursday, October 30th at the beautiful Omni San Diego, located in the heart of downtown. To kick off the conference, Omni hosted the Tuesday night opening reception and early check-in atop the hotel on the pool deck. With gorgeous views of San Diego and tons of socially savvy folks getting to network in real life, we love this tweet that summed up the night pretty perfectly:

Yes, we "know" aka, follow a lot of each other already, so it is always a treat to be able to meet one another face to face at events such as Social Fresh… what a concept!
One especially great thing about Social Fresh is the fact that it starts at 10am each day and goes until 4pm or 5pm to allow attendees the chance to enjoy the morning to either get work done, get out and enjoy the host city, or to network with fellow attendees. The extra couple hours in the morning is a nice touch and allows attendees to get things done before the busy day and to open up the schedule a bit so when they are in the conference, they are focused on the conference and not distracted by inundations.
And Day 1 hit the ground running. Fantastic speakers such as Paula Berg and Sarah Evans stole the stage, with Paula Berg encouraging attendees to go against the status quo of social media marketing rules and to do what is best for your brand and your brand only. Evans shared with us her social media tool kit filled with recommendations for organizing photos, video, automation of web content, her "Top 10, Can't-Live-Without List, That Won't Cost You A Dime", as all attendees excitedly pulled out their phones to take a photo of the screen (see below).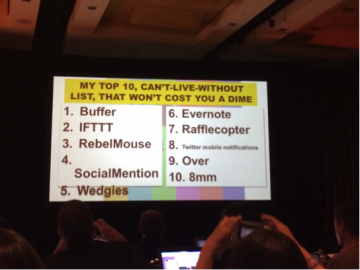 The rest of Day 1 consisted of more fabulous speakers such as Jeff Revoy from ViralHeat, and a crowd favorite, Sue Funke from TV Land, who discussed "4 Social Media Lessons for Generation X" and simultaneously lightened up the event with her incredibly contagious sense of humor.
You can view the full list of speakers for both days at http://socialfreshconference.com/.
Following an all-day event of social content, Day 1 wrapped with an evening reception hosted by the lovely Omni San Diego for further networking opportunities with fellow attendees and team members.
Day 2 came out swinging, with many brands ranging from start-ups to enterprise discussing their challenges and successes with the conference. One of the attendee favorites included Josh Martin from Arby's, who is responsible for the Grammy's Twitter conversation with Pharrell Williams over the incredible coincidence of his hat's similarity to the brand's logo.


Josh described the impact that tweet had on Arby's as a whole, and how his social media team grew with respect (and budget) thanks to the timely infiltration of the relevant tweet.
Other brand marketer highlights included Juntae DeLane from the University of Southern California and Eleni Tavantzis from Lilly Pulitzer.
Juntae dove in to discuss how leveraging social data helps give social marketing an edge. He spoke about their USC listening center and how they put social conversations into various buckets so they can properly assist with the various types of inquiries the university receives on a daily basis. Through social analytics, they were better able to find the most asked about questions and create media content that speaks to their audience. For instance, they created MTV Cribs style videos to showcase dorm life, which is a hot topic in their social conversations.
Eleni from Lilly Pulitzer had an energetic presentation where she spoke on "Shifting Brand Perception Through Instagram" and how they took the social ROI discussion and threw it out the window in an effort to revert to the "old school" social mentality of social branding as the main KPI. She and her boss went back and forth about the goals of social media for the brand, and found that speaking the language of Lilly on Instagram was the surest way to increase brand awareness and drive sales.
All in all, the Social Fresh conference was filled with fantastic content, incredible speakers and sponsors, and we will surely be back for next year.