Super pumped for the tWineUp One Year Anniversary Party, with special guest @GaryVee, who's joining me in doing an exclusive wine tasting and book signing at @SyrahWineParlor to go along with the tWineUp Event! While I love @GaryVee, let's not all forget this is a tWineUp event, an event created in conjunction with my followers a year or so ago! The first tWineUp had 8 people, at my apartment downtown, and we had a great time! Others followed, with the last big tWineUp at @OBrothers, here's a video highlighting that event!: http://www.youtube.com/watch?v=ASKUGK0t06I I love that video! 🙂
Check out the official flyer for the Nov 4th event: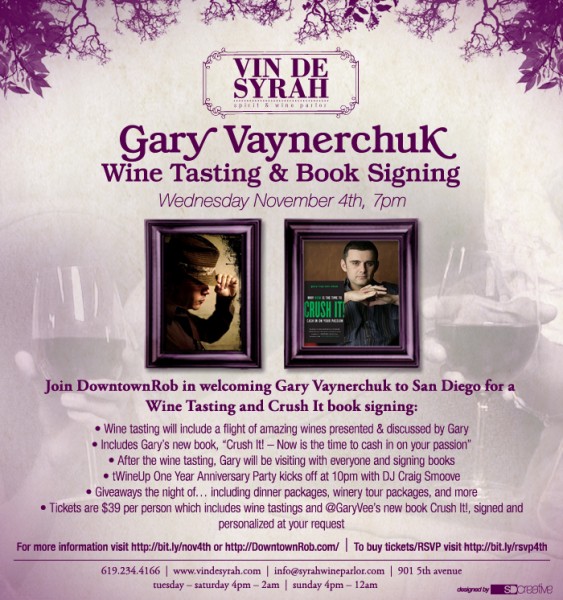 Here's a Promo TV spot, this one seen by someone on Twitter at a gas pump in Escondido and TwitPic'ed it (http://twitter.com/JustBecauseiCan/status/4821037963)!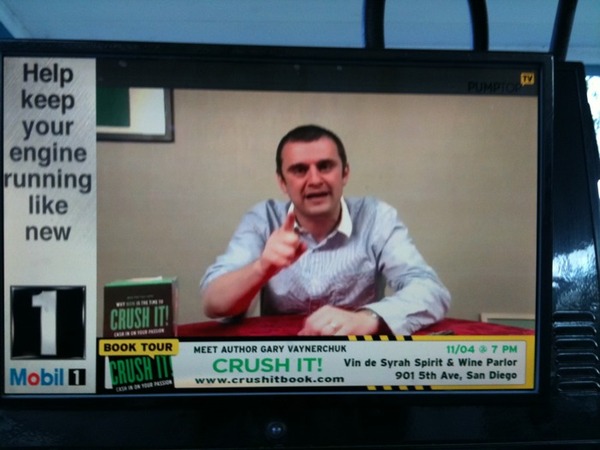 I'm all about supporting those I believe in, so I've bought the book myself on my Kindle app, and read it on my iPhone.  Gary's energy and passion is definitely captured well, along with his core entrepreneurial spirit – something I strongly identify with – and the words in this book motivate you to pursue what you love, and settle for nothing less. Work hard, work your day job if need be, put family first, but work hard to build your own business, and the chapters cover the tools, methods, opportunities, etc that inspire ideas, trigger thoughts, and motivate you to continue striving for what you really want to do in life, and live it to the fullest. A book is included in the Wine Tasting and Book Signing ticket price, but buying a Kindle version or additional copies for family or friends as gifts is something I'm considering doing for my brother, my corporate friends, etc. I was able to get a preview chapter, for those interested in what Gary's book is all about…
Preview a chapter: Crush It! Chapter 1
I hope you'll show your support for the tWineUp: RSVP for Nov 4th here! http://bit.ly/xr3X4
Thanks so much! I hope to see you for the tWineUp One Year Anniversary Party, and hope that you enjoy @GaryVee's presence and his book as much as I personally do.