East Village, San Diego is booming with new and fun restaurants. I had the opportunity to enjoy a chef's dinner at Toast Enoteca & Cucina with a guest. Immediately I was impressed by the ambiance created by the red mood lighting and numerous bottles of wine surrounding the intimate space.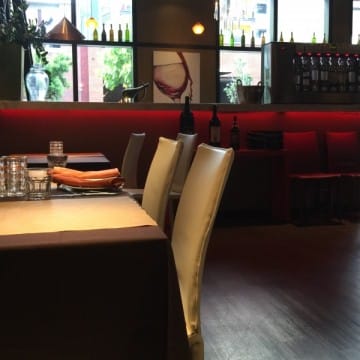 We were handed an iPad  loaded with the menu and in depth details of each item. My guest ordered the Blood Orange Wit, a local artisan beer from Refuge Brewery in Temecula, Ca. Of course I had a sip and it was really good! Since we were there during happy hour it had a great price point of $3. Happy hour is Monday – Friday from 3pm-6pm.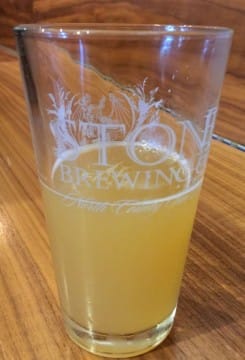 If your thing is super fresh pasta made in house and you want to pair it with a glass of wine, then this place is a must try for you. Fresh ingredients and local is always appealing to me. Our server said that they have numerous gluten free options such as home made carrot pasta.
We enjoyed food from the dinner menu with fancy Italian names but I'll break it down in classic english. The courses included a surprisingly good octopus salad, bacon seared brussels sprouts, roasted cauliflower, and lasagna with pork belly. The presentation attention to detail on each dish was excellent.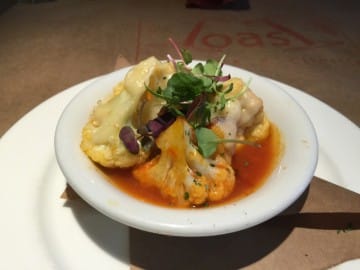 You may consider this place for a date as the ambiance was set for such a scene. Its location is close to the ball park and in East village where there is an abundance of unique restaurants. You can order wine by the glass, bottle or inch! Their innovative wine machines let you try many different wines in the portion size of your choice.
Bottom line is if you want fresh pasta and drink wine,  you need to give Toast a try. Since many of the sauces and ingredients are made in house this place is not for the dollar menu value seeker, but more for a foodie that wants authentic Italian food with incredible wine options.
Visit them online for details, menu, and reservations: http://www.toastenoteca.com/