First, welcome to the new website of DowntownRob.com – a brand new design and a migration in the works for a few months, now featuring revamped categories, new navigation menu, new ratings and review options, and most importantly, is now mobile friendly with a superb responsive design. Enjoy! Please leave comments with your thoughts. Look for a boost in new posting activity soon, some new contributors, and special offers and giveaways only in our newsletter – sign up on the right side today.
To celebrate the new website, I want to share this great cocktail recipe I received a while ago from the fine folks at Harney Sushi, which I'm reviving for the holidays. Merry Christmas and Happy New Year to you all. Cheers!
Pumpkin Spice Cocktail Recipe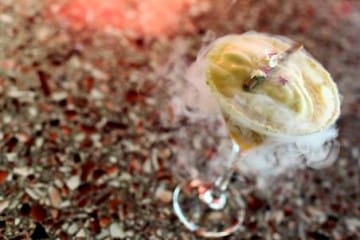 Part 1: Pumpkin Puree
1 cup diced pumpkin
1/2 cup sugar
1/4 cup water
1 cinnamon stick
4 cloves
3 juniper berries
3 ea allspice berries
1/4 tsp fresh grated nutmeg
Instructions: In a sauce pan combine all ingredients and simmer for 20 minutes, or until very soft, and blend on high until smooth. Set aside and cool.
Part 2: Vanilla Soju
3 ea vanilla beans
1 bottle soju
Instructions: Split the vanilla beans and put the entire beans into the soju bottle. Leave for four days.
Part 3: Creating the Pumpkin Spice Cocktail
3 oz vanilla soju
1 1/2 oz pumpkin puree
1 ea cinnamon stick for garnish
Add cool whip to garnish
4 ea micro edible flowers
Instructions: In a shaker combine soju and pumpkin puree and shake with ice, strain into chilled martini glass and float cool whip over the top. Garnish with cinnamon and flowers.
Enjoy!