We're sharing the best limo-friendly Temecula wineries, after an amazing day from our recommended limo provider, Aall In Limo, who provided a group of San Diego Bloggers a free tour of a handful of Temecula wineries. Some wineries were very welcoming, some were not accepting limos or were too full – even when trying to make reservations ahead of time.
Founded in 1978, the 35 acres of vineyard property was planted with Zinfandel and Sauvignon Blanc in 1972. It was the first winery in South California to plant Gewürztraminer wines, which later became a signature wine for Danza del Sol. After a much deserved retirement, the vineyard and winery was purchased by Robert Olson in 2010 from Dr. William Filsinger, who founded the winery.
Cougar Vineyard & Winery was established in 2004 and specializes in Italian varietals, some of which are very rare. If you are a fan of Sagrantino, Vermentino, Primitivo, Pinot Grigio, Arneis, Montepulciano, Brunello Sangiovese and others, Cougar is definitely the place to hit up. The Cougar label was created and named after Cougar Mountain in Bellevue Washington, where the home of winery owners Rick and Jennifer Buffington was initially located. Their wines are produced in small lots from single vineyards with an occasional blend such as Meritage or Super Tuscan.
Established in 1997, Doffo Winery's philosophy has always been that good winemaking begins in the vineyards. Their focus is on producing small lot, handcrafted wines that represent some of the best varietals in the Temecula Valley wine growing region. Doffo's wines are intensely flavored of complex structure, texture and bold, rich fruit.
Established in 2000, Wilson Creek Winery and Vineyards is a warm and friendly, comfortable yet exhilarating, simple and elegant Tuscan-themed getaway located in the heart of Southern California. Nestled at the end of Rancho California Road in Temecula Valley, the winery is home of the famous Almond Champagne. The tasting room is the perfect setting for a quick getaway and lush grounds surrounding the winery make for the perfect picnicking spot.
Founded in 2003 by Mike Rennie and Gary Winder, Leoness Cellars is the inspiration behind their lifelong quest to create world-class wines from the finest vineyards in the Temecula Valley. The winery offers a warm, enchanting setting where visitors can enjoy spectacular views, wonderful times with family and friends and nevertheless great wines.
All In Limo's Suggested Planning Schedule
Limo to the Winery: 45 min – 1 hour
Their driver will take you to the 1st choice of your winery.
1st/2nd/3rd Winery: 1 hour – 5 hours
Enjoy wine tastings, tours and demonstrations at the wineries.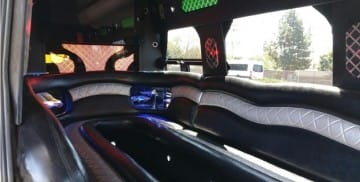 Wine & Dine: 1 hour – 2 hours
Have dinner at a winery while listening to live music.
Driving Back Safely: 45 min – 1 hour
Their driver will safely drive you back.
Visit Aall In Limo's website for more information.