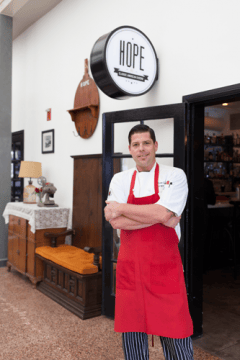 The Lafayette Hotel has some very unique and vintage abodes available for its guests, but also provides eats through the restaurant Hope 46. Chef Ryan Gilbert has brought his culinary skills to the restaurant as their new executive chef. He's steering the Lafayette Hotel dining scene toward more locally sourced food with a renewed spirit.
We were invited to try out the newest items from the poolside menu, where Chef Ryan is slowly putting his own spin on things. For a lovely sunny afternoon by the hotel pool, the watermelon skewers are a simple but refreshing burst of summer sweetness, and edged out with a sprinkle of tajin spice to change it up.
Another great new item is the roasted red pepper hummus. This generous platter is centered around house-made hummus that's creamy and perfect for light snacking while you soak up the sun. My favorite part, besides the hummus, is the farm fresh baby carrots. I don't see these at most grocery stores and love them raw as well as roasted in the oven! This plate is plentiful for sharing.
Another dish is the simplistic Shrimp Louis Salad. Nothing is heavy here. The shrimp are hardly touched by anything, if that is what you like. The buttermilk dressing is very non-intrusive… all the greens shine through and I feel healthy eating it!
Besides the newer food items, we were able to sample some specialty drinks which include the minty fresh cooler and the poolside passion. I don't swim but if I did, these non-alcoholic drinks will keep me safe!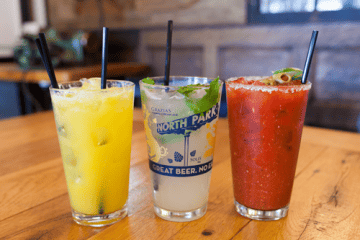 With summer approaching, it's time to relax by the pool, grab a few fresh munchies and check out the vibe at the Lafayette Hotel, which includes live music on the weekends. Sounds like a plan to me!
Check out the full photo gallery here