The rustic ambiance will pull you in, and the savory aromas will lead you right to your seat. There is a place for everyone at The Patio. Be it in front of the original Lamont Street Steakhouse brick fireplace, basking under the sun or heat lamps, at the bar or inside the cozy eatery. Once seated, our eyes feasted on an eclectic, globally inspired menu.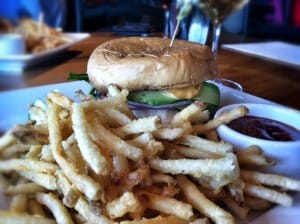 For lunch among other selections, we looked at the red pepper hummus & mixed olives, tomato & pesto bruschetta, catch of the day grilled tostada, and sautéed calamari. We ended up choosing the blackened fish sandwich of the day and the grilled chicken sandwich. The blackened fish sandwich was served with heirloom tomatoes, arugula and citrus aioli.  The grilled chicken sandwich was served with Jidori chicken, chipotle mayonnaise, mixed greens, heirloom tomato, onion, avocado and brioche. Both were a culinary delight, featuring the perfect ratio of main entrée to side dish.
A week later, I came back for brunch, and Chef John did not disappoint. We were greeted with the same welcome as before and yet another mouth-watering menu. This time we sat at the bar and had the Portobello Benedict served with poached eggs, hollandaise, patio home fries and a house made biscuit. We also ordered the Breakfast Flatbread with apple-wood smoked bacon, black forest ham and gruyere.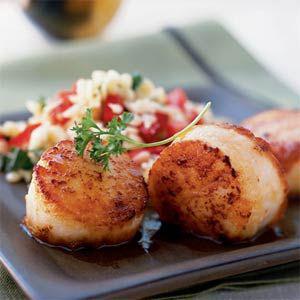 Looking around, there was a mixed audience. Couples and groups ranged in age from mid 20's to mid 60's. This is a rare onslaught, indeed. The neighborhood restaurant shares the best of both worlds, as it is located in Pacific Beach on the cusp of Crown Point in San Diego. The Patio is also dog-friendly, so feel free to bring your dog and allow them to enjoy the treats provided.
All in all, The Patio is an upscale eatery with a pristine wine list and local craft beers to boot. It has a warm, classy feel and also features an onsite herb garden, using seasonal ingredients for the menu.
Click on an image below to bring up the photo gallery.
Feel free to visit The Patio on Lamont Street web site at thepatiosd.com for more information, and let them know you saw it on DowntownRob.com 😉