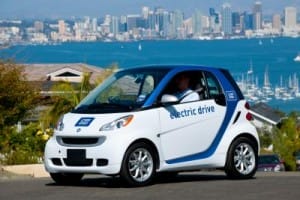 I'm a big fan of both Über and car2go, have talked, Tweeted and posted on Facebook about them often, and when remembering all the people that ask me about the differences in costs, I decided to write up a detailed comparison. After seeing both bills from the two car services I used in one night, going from my condo Downtown to North Park (for the cool San Diego Blogger meetup at Seven Grand, a new whiskey bar that recently opened – a review is coming soon), and back home again later that night, I realized had the perfect cost comparison opportunity, so I'm sharing it with you.
I am San Diego's #1 Über fan and day 1 member, also a day 1 member of the all-electric car sharing service car2go, and use a variety of taxi services all the time, too, so I had quite a few options to consider. To get there, I didn't want to drive to North Park and worry about having to drive back later after sampling a few cocktails (which are simple and superb). I was also running a bit late, so I wanted to minimize the wait time, and get moving. I fired up the Über app, and saw that a car was 3 minutes away. I used the car2go app to see where the nearest car was located, and it showed me one about a block and a half away, basically on the water across the street from my building. A taxi would take about 5-10 minutes or so to arrive.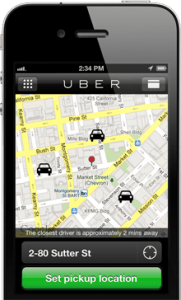 I decided to go with the car2go service to start the night. I'd have to walk to the car, and then drive to North Park, and hopefully find a parking spot fairly close. It was a Tuesday night, so parking demand should be lighter than normal. It turns out I found a spot right in front of True North, and walked a block up and then a block over to Seven Grand. Easy and quick, no waiting, and I was happy with my choice.
We had a great night, meeting new bloggers, listening to the music of Dawn Mitschele and others from the stage, and enjoying the cocktail menu of Seven Grand.
The afterparty consisted of pizza, wings, and a nightcap at URBN, which was all delicious. It was about midnight, and time to call it a night (it is a Tuesday after all). My friends live a few blocks away, and were walking. I needed to get home, and the idea of asking for the address of where I was and  calling/texting for a cab (then waiting for a cab to show up) seemed silly. I certainly wasn't using car2go to drive myself home, so I opened the Über app, and yep, a car was 4 minutes away. I pushed Request Pickup, and the app knew exactly where I was, with it's built in GPS locator. By the time the we paid the bill, the sleek black sedan had already arrived, and my door was open, waiting for me. A smooth ride home in a nice car made for a good finish to the evening, and I thanked him as he dropped me off, rating him a 5 out of 5 stars in the app. No tipping with Über, and no cash or credit card needed, which makes it painless and easy.So, how do the services stack up? Let's summarize the costs below.
Summary of Costs
While everyone is pretty clear on the functional differences between Über, car2go, and a taxi, the costs are the main differentiator for most people. It's also prety clear that Über is more expensive than the other two, the question is always asked of me, how much more expensive? So, I'm breaking it down for you here with concrete examples, a ride that is a fairly good distance, with no traffic to skew drive time or pricing.
Über: $34
Taxi: $28*
car2go: $6
* The taxi fare was estimated using taxifarefinder.com (which looks to be very accurate). To be fair, the car2go route I took driving to North Park was quicker than it would be coming home using the freeways like I did with Über, so let's adjust that up to about $8 for a same route comparison. Also note, the taxi fare includes only a $2 tip, whereas that web site suggests a 15%, $4 tip, but I've always just done a flat rate of $2 tip, that's just me.
So, based off those numbers, Über is about $6 more than a taxi, while car2go is drastically cheaper than either – but you do have to drive yourself, and find a parking spot. For shorter distances, such as from my condo to Gaslamp, costs are a bit different, with Über charging a minimum rate of $15, a taxi costs about $10, and car2go is about $3-4. A quick word about the pedicabs… don't ever use the pedicabs. They are way overpriced, slow, and clog traffic. They are for tourists that don't know any better! In a pinch, if you're going a very short distance, with girls whose feet hurt from their stilettos, and cabs refuse such a short ride, then first negotiate a flat rate of $5, and even then it's a maybe.
Whenever I tell people about Über, they ask about the price, and I've always said it's about $5 to $10 more than a cab – which is definitely worth the convenience of the on-demand Über app, showing you exactly which cars are available and how far away they are, and the luxury of an executive sedan – compared to your typical cab and cab driver experience. I'm pleased that the costs shown here match up very well to what I was only guesstimating before.
Long story short, I'd say both car2go and Über are priced well for the service and benefits they provide, and depending on if you're driving yourself, there's a car available nearby, and you can easily find parking at your destination, car2go is by far the inexpensive winner. When you can't drive and want a ride on demand, Über is the way to ride in style, and it's on-demand app takes care of finding you, finding an available driver, all without needing cash or credit card, and no tipping. Taxis are easy and quick if you're deep in Gaslamp territory and there are dozens driving by every minute, otherwise, use one of the other services and be happy!
Information on Über and car2go…
Über: Signing up for Uber is free, and if you use promo code "uberdowntownrob" you'll receive a $10 credit towards your first ride. Download the app or visit their web site: https://www.uber.com/cities/san-diego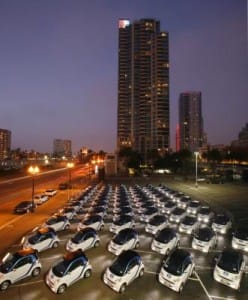 car2go: Sign-up is a one-time $35 fee (sometimes waived if you attend some of their events, or have a promo code), and then you pay a flat 38 cents per minute. Simple pricing. End your rental within their service area, and park in any metered or free street spot you find – metered spots are free for car2go cars. You can locate cars, reserve cars, and find dedicated car2go parking spots around the city and charging stations via their app (ending at a charging station earns you 20 free minutes). There are hourly rates of $13.99 and daily rates of $72.99, if you're taking extended trips. Visit their web site for even more details: https://www.car2go.com/en/sandiego/