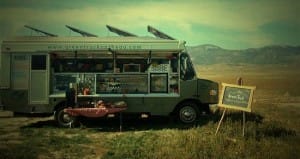 Blues-meets-hip-hop favorite G. Love, surf-rock troubadour Donavon Frankenreiter and veteran reggae mainstay Pato Banton head the list of eight artists set to perform at the debut edition of Night&Day Street Fest. The event is inspired in part by the early, award-winning editions of San Diego Street Scene in the mid-1980s.
Oh, wait, before reading further, here's a great deal, only a few hours left – TWO tickets with FOUR drink tickets, $35: http://bit.ly/DTRsNDSFDeal
It will feature four national headliners and four top local acts, including The Nervous Wreckords and The Styletones. Performances will take place on two outdoor stages on 14th Street in downtown's East Village, adjacent to Petco Park. The 21-and-up festival will feature interactive art attractions, a fashion runway, a dance loft, a specially erected surfing museum and a VIP zone. There will also be "foodie alley," featuring items from local restaurants and food trucks, and a craft beer "Oktoberfest," which will be curated by San Diego's Stone Brewing Company.
Chris Cantore, who was a superb co-host at the amazing Comic-Con Tweetup event I put together with sponsorship from the U-T and others in 2009, is the man behind Night&Day Street Fest, and is U-T San Diego's Director of Lifestyle and Entertainment. It takes its name from Night&Day, the U-T's weekly arts and entertainment section. A portion of the proceeds will benefit the nonprofit Surfrider Foundation. "We want to super-serve our audience with an incredible experience and not shoot too high," said Chris. "Our plan is to start small and grow the event, organically, over time. Rather than having a $50 to $100 ticket price, we're making a strategic move to keep the event competitively priced and sell out the festival at $25 a head. Night & Day Street Fest is really all about the San Diego and the community, which — for me — is what Street Scene did at its best."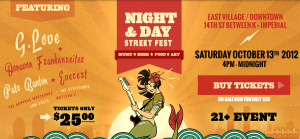 It is the early Street Scenes of the 1980s that are a partial inspiration for Night & Day Street Fest, according to Cantore, who first attended Street Scene in 1987. Street Scene, which grew into a nationally prominent annual music festival, drew 105,000 fans to its 2004 edition, which was held adjacent to Petco Park. During his subsequent tenure at radio station 91X, he served as an on-stage announcer for Street Scene and, in 2008 and 2009, helped oversee the festival's social media and interactive online platforms. "We don't want to start where Street Scene left off or replace it," Cantore said. "But I've been a tremendous fan over the years and, having worked with Street Scene, I certainly took lots of notes." 91X, an early Street Scene supporter, will be the radio sponsor of Night&Day Street Fest.
It's going to be an amazing experience. Tickets for the festival are priced at $25 each and go on sale Thursday. Here's the vital info:
The Food:
http://www.utsandiego.com/ndstreetfest/food/
Music Lineup:
http://www.utsandiego.com/news/2012/aug/13/lineup/
If I were y0u, I'd go VIP:
http://www.utsandiego.com/ndstreetfest/vip/
Go buy your tickets now:
https://tickets.ndstreetfest.com/NightDayStreetFest&Tickets