One of the best things about living in San Diego is the availability of so many healthy restaurants, products, and services. It makes fighting off the dreaded Holiday 10 that much easier. If you are like me, health and fitness is a top priority in order to maintain emotional stability and have good stress management. Even though San Diego has the health convenience factor, it is still a big city. Living in a big city affects the way we handle stress along with many other physiological and emotional problems. Traffic, pollution, crowded areas, and a high cost of living will eat away at someone's health and well being. That is why it is so important to prepare your body and mind by eating healthy, exercising, and taking time for yourself.
I was recently diagnosed with Candida overgrowth and have been cleansing the yeast for several weeks. Candida, along with a high stress environment, caused many other problems to my health and mental clarity. Now that I have identified the problem and sought treatment, I have a limited menu of food items to choose from. I already ate very healthy before, but trying to kill Candida means: no sugar, no gluten (very little carbohydrate sources in general), no dairy, and fresh organic goods if possible.  So, when tasked with naming my top five restaurants in San Diego, I was a bit stumped. Nonetheless, I came up with a few places I know have healthy options available (and have great food).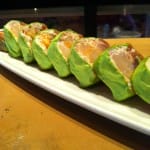 1. Cafe Japengo Sushi – This is an upscale sushi restaurant in UTC and have customizable options to their menu. You can order fresh wasabi and tamari (gluten free soy sauce) with your sushi. You can order any roll with little to no rice and soy paper (although the seaweed has so many health benefits). My favorite things here are the protein roll (pictured) and the grilled shrimp hand roll with no rice.
Yelp it! | Menu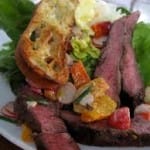 2.Tender Greens – Not only do they have healthy choices and great tasting food, Tender Greens takes the freshness of their ingredients to the next level. They use organic ingredients, beef from grain-fed hormone/antibiotic free cows, organic grain fed and cage free chickens raised in Northern California, and tuna caught straight from the pacific and never farm raised. Cold pressed olive oils, organic teas, and breads and deserts made fresh daily. The UTC location gets my business at least once a week but they also have a location in Point Loma. My favorites are the Baby Spinach salad with Salt and Pepper Chicken and the Backyard Marinated Steak on a hot plate.
Yelp it! | Menu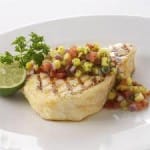 3. Morton's Steak House – I recently dined at an upscale steakhouse downtown and the only thing on the menu I could order was a steak and plain asparagus. This isn't the case with Morton's! They have an entirely different menu that is gluten free. It is hard to pick just a few things but I would have to say my favorites are the Chilean Sea Bass and the Filet. However, I love the Chicken Christopher (non-breaded and grilled) and New York Strip. My favorite sides are the Jumbo Asparagus and Garlic Green Beans.
Yelp it! | Menu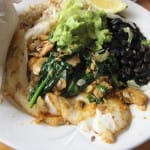 4. Rancho's Mexican Food – Organic, Vegan, Vegetarian, or meat lovers cuisine in North Park and Ocean Beach. When I am craving mexican food, this is where I go. There are so many options on the menu that it is hard to pick just one or two. You can be all vegan, or order a carne asada burrito. Whatever your choice, they serve all fresh and organic foods and can customize anything on the menu to your liking. I usually get the fresh fish or chicken burrito with vegan cheese and a whole wheat tortilla. I also love the tortilla soup and the organic mexican coffee.
Yelp it! | Menu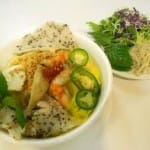 5. Loving Hut – Vegan cuisine in University Heights that also supports great causes. Their vision is that all beings could live in peace love and harmony with each other and the planet. They have branches all over the world and also support an alcohol free lifestyle. They are about compassion and sustaining the planet. My favorite things here are the summer rolls and eggplant tofu but the grilled seaweed is also a must for your first time. They have meat substitutes and wonderful Pho, along with several italian style and american dishes. Oh and if you are going to cheat, try the carrot cake!
Yelp it! | Menu
Enjoy my top 5 spots! Have you been to any of these restaurants, and if so what are your thoughts?