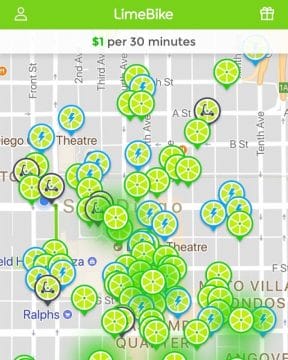 LimeBike is now live all over San Diego, and offers $1 per 30 minutes bikes that are parked all over the place in Downtown and around town in other areas. You find them via the LimeBike app, walk up, scan the QR code, and it unlocks itself, and your ride starts. You can ride it anywhere, and end your ride anywhere… you don't need to find another docking location nearby! It's 5 times cheaper than those DECO/DiscoverBike docks all over the place (which cost $5 per 30 minutes) it's quicker and easier than FRED (The Free Ride), and it's definitely cheaper than Uber or Lyft for those quick trips under 2 miles – especially in the Downtown area.
There are also e-bikes and e-scooters available, with the cost being $1 per 10 mins plus $1 per ride, so $2 for 10 minutes, $3 for 20 minutes, and $4 for 30 minutes.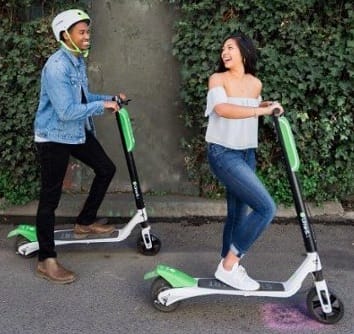 With a sleek, fun design, 250-watt motor and 37-mile maximum range, the Lime-S scooter is a perfect complement to our fleet of pedal and electric-assist bikes. The scooters are lightweight and easy to maneuver, making them ideal for quick city commutes. On top of that, they're also incredibly fun to ride!
With the Lime-E, the new electric-assist e-bike, your trip across town just got easier. Lime-E's lithium battery helps you ride up to almost 15 mph without breaking a sweat, even uphill! It also stays true to the affordability and dockless accessibility you've come to expect.
This will make San Diego the first market in the US to offer all three of LimeBike's smart mobility options to the public.
"LimeBike is leading the way in smart mobility solutions for the nation," said Zack Bartlett, our General Manager of San Diego. "We look forward to continuing to work collaboratively with the city and local stakeholders to help meet the goals outlined in the city's Climate Action Plan and Downtown Mobility Plan."
Use my code to get three $1 credits off your first 3 rides: RBHDQZ2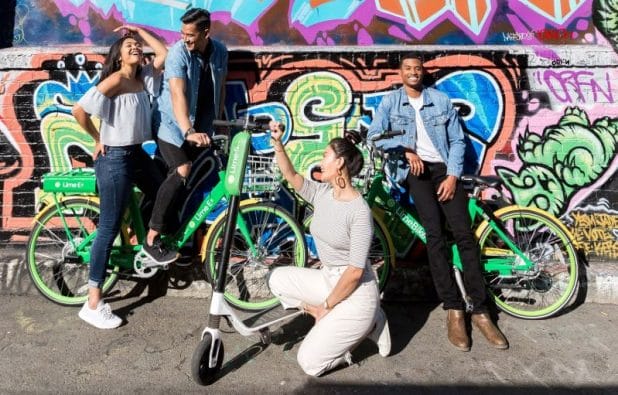 Check out these informational and often funny videos…
Stranger Things-inspired LimeBike short video:
Say Hello to LimeBike:
A great Matrix-inspired guide for where to and not to leave your LimeBike/Scooter:
Biking Riding Basics from LimeBike: