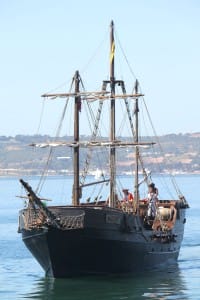 You'd think now that Halloween has come and gone your chances for playing dress up are over for another 364 days.  Luckily for us, we live in San Diego  where there are so many one-of-a-kind events and attractions on a daily basis, and one let's us be a pirate for a night!
Pirate Ship Adventures, located in downtown San Diego, has a ship, pirates, and even a mystery murder voyage.  I was on board the Treasure Seeker, an 83 foot black pirate ship that could easily be mistaken for the Black Pearl from the Pirates of the Caribbean, for their first Murder n' Mayhem voyage.  It doesn't matter what time of year or for what occasion, get all dolled up, spruce up your acting skills, and have a fun night finding out what being a pirate is all about.
The crew of the Treasure Seeker made it clear from the beginning, you break the rules then you walk the plank (all in good fun).  From top to bottom, the ship was like it came from the movies: Painted black, dark lights, ominous music.  You get so wrapped up in the mystery, you forget you're in the San Diego Harbor.
The first process is finding out who your character is.  Mine was Perilous Pearl, the daughter a late pirate captain.  I had to read up on her personality, her history, other characters that she is close to, and my favorite part picking out my costume.  One thing I did not know is that there will be civilians or "detectives" aboard the ship.  If you'd rather not be in character, this is the part you choose.  At first, I thought they were just a bunch of party poopers who didn't want to dress up.  Oops.
While aboard the ship, you are given more of the story line, a history of the ship and it's crew.  You use everything you learn to solve the who-dun-it, so pay attention! There is even a treasure hunt.  This was the perfect ice breaker to get people to start asking questions.  You can't be shy if you want to win!!
With a bar, snacks, and real pirates….bring Halloween to your night any time of year! Their next cruise times are December 1st and 8th, 7pm, check for availability today!
Side note: I wish I could've taken more photos.  The ones I took did not turn out because of the black lights and the RAIN!   It was the first night of our little San Diego storm and we were all drenched by the time we got off the boat.  All in good spirits though and none of us had to walk the plank!